Thudufushi, Maldives 2018
This site looks much better with JavaScript turned on. For the best experience, please enable JavaScript and refresh the page.
Resort report/review of our two-week stay at Diamonds Thudufushi, Ari Atoll, Maldives, in December 2018.
Travel
The usual 10-hour BA flight in cattle class was much more crowded than the same flight on the same Sunday 12 months ago, and the food was just as bad. The flight was smooth, and the crew cheerful.
Less than the usual chaos on arrival at the airport in the Maldives – the Kuoni rep was visible and helpful. Check-in for the TMA seaplane didn't take too long, but remember that the seaplane weight limit of 25kg is for your suitcase AND your cabin baggage together, so TIP: move any heavy items to your pockets (they don't weigh you) to reduce your excess-baggage liability.
An interesting drive round the perimeter road, taking in the vast expansion of the island and the building works to support the (under-construction) second runway and the now-completed new bridge to Male and its dual-carriageway road to the huge (and ever-growing) artificial island of Hulhumalé. Then the usual chaos at the seaplane terminal as we are originally given a flight 2½ hours away, but after a while this was changed to a much earlier flight from a different terminal.
Then you have the wonderful thirty-minute seaplane flight over the colourful reefs and islands (have your camera ready, as you don't have access to your carry-on baggage during the flight), to land in the lagoon at Thudufushi.
On the return journey we had a good smooth punctual seaplane flight back to Male, stopping at sister island Athuruga to pick up a few more passengers. At the international airport, the departures drop-off area has been relocated, and is now much more chaotic and crowded, and further to walk to the check-in area. That's progress for you.
The return BA flight was awful – the crew twice had to reboot the entertainment screens to get them working properly, we were offered two almost identical meal choices on the way back (one of which was almost inedible), and we found that we were sitting next to a young woman who talked loudly and continuously to her neighbours throughout the entire flight, and who kept on being fuelled with more and more booze (including bottles of sparkling wine, which weren't available to the rest of us - she seemed to be a personal friend of one of the cabin crew).
Unfortunately there isn't a non-stop competitor to BA on this route – we'd certainly try it if there were.
Thudufushi
We'd asked by email for beach villa 24, where we'd stayed last year, but were told a few days before departure by Kuoni that there was building work under way, and that Kuoni clients were being re-located away from the noise. We were concerned that we'd be put into a room without any beach or shade outside, so contacted some people on the island to find out more details. It turned out that two semi-detached beach villas were being knocked into one big villa – and it was beach villa 24 & 25! We were eventually offered a free room upgrade to Junior Suite 10, with plenty of beach and some good shade outside. Dive Centre Manager Govinda later hinted that he had suggested the upgrade, presumably to help a long-standing dive client. Thanks to whoever arranged the new room!
The beaches move around the island, both as the seasons change, and over the years, so we were not surprised to see that the sand-pumping machinery was in use once again to move sand from near the jetty round to the restaurant and main bar – we were impressed by how quickly effective this was in building up the beach when erosion threatened to undermine the buildings. After a week or so, the buildings were out of danger, and the sand-pumping pontoon was shut down and moved to a mooring in the lagoon.
The weather wasn't quite as good as last year – there was a lot of thin high cloud which took the edge off the fierce equatorial sun. But this was no bad thing, as we were less likely to get burnt. We only had one day-time tropical shower, soon over, while we were there, though it did rain a couple of times during the night. It's plain that the season doesn't change until early January nowadays – the wind was blowing from different directions every day during our visit. We'll have to see if we can afford to come further into the high season next year.
During our stay we chatted to Thomas, one of the previous managers at Thudufushi, who told us that Planhotel (the owners of Thudufushi and Athuruga) have bought the island of Bathala, in North Ari Atoll, on the eastern side of the atoll. It was being renovated, and will be opening in May 2019 as "Sandies Bathala", and the previous manager at Athuruga, Stefano, is to be the manager there. Thomas now seems to be managing both Thudufushi and Athuruga, dividing his time between them. IDive aren't going to be running the dive centre on Bathala - Planhotel have asked the existing incumbents, Werner Lau, to continue to provide the diving service. I dived with them at Vilamendhoo in 2004 - they were a well-established, professional bunch.
Our room
The excellent room is pretty much identical to the regular beach villas, apart from the extended covered veranda and the extra space provided by the sitting area, which has a big bureau, a sofa and a coffee table. The extra space was useful for storing stuff, but we never sat there.
In addition to this sitting area, the villa contains a large bed, with an unnecessary duvet (all you really need is a single sheet – a duvet means you just have to turn the air-con up), bedside tables/lamps, two good-sized wardrobes with reasonable hanging and drawer-space, a good, big room safe, a tea/coffee making machine, a minibar, a long table against the wall with a stool underneath it and a mirror above it, air-con and a ceiling fan. There are umbrellas and a hair-dryer, and a couple of free UK and European power sockets for recharging stuff. There's also a Wi-fi router, providing a good broadband speed in the room and out on the veranda. The minibar will be stocked with a variety of soft drinks, but you can ask for this to be changed to your preferences.
The partially open-air bathroom contains two wash-basins, WC, bidet, towel rails, a washing line, and a shower. Towels (and sheets) seemed to get changed every day or two by our excellent room attendant Navaz, who kept the place spotless.
Outside on the veranda there are two comfortable sitting chairs with a coffee table, a dining table with four chairs, a foot-bath to wash off sand, and a stunning view of the Indian Ocean. You step down from your veranda to your own sunbeds on the white coral sand that leads down to the water's edge. Beach towels are provided, and changed every day.
As soon as you occupy your room, you can take off your shoes – you don't need to wear anything on your feet anywhere on the island until you leave (with the possible exception of the wooden jetties, which can get a bit hot for bare feet at noon).
Food + Drink
The big news this year in the main restaurant is that the old pasta and pizza bars have been extended outwards in a large horseshoe-shaped counter, behind which chefs cook your food to order for you while you watch. It's interesting to see how professional chefs prepare and cook proper restaurant meals of fillet steak, fish, lamb, chicken, etc. This does mean that there's slightly less choice than before, as there's no room for all of the old rows of tureens, and you have to wait a few minutes while the chefs cook your meal, but the new arrangement means fresher, tastier food, and on the whole got the thumbs-up from us. In addition, there's still the choice of three different curries, the pizza and pasta stations, the salad bar, the fresh fruit/ice-cream/cakes bar, and of course the BBQ grill on the sand behind the restaurant for perfect freshly-grilled fish.
Chef Giacomo told us that he's doing something similar at sister-island Athuruga, a few miles away on the horizon. He has also added to the "themed" evening menus (Italian, Oriental, Maldivian, Mexican, etc): there's now a Vegan-themed evening once a week as well.
After a day or two, we were ushered to a different table in the restaurant, right at the front, practically on the beach, with a fabulous view - over breakfast one morning we saw a pod of dolphins swim past just over a hundred metres away. Our waiter, Mohammed, looked after us well in the restaurant, and decorated our table beautifully with flowers on our last night. Behind the bars there were a crop of new faces besides head barman Lesly and old friends Kholil and Akash.
Underwater
Snorkelling
I didn't do any snorkelling at Thudufushi this year, as it's too much heartache seeing how dead the coral is now, compared to its glory days in 1996, when we first came here. Perhaps it will recover after last year's bleaching and Crown-of-Thorns Starfish invasion, but I'm not optimistic.
Diving
The usual superb service from the IDive team (they are also on Facebook). Their spacious dive dhoni has all you need: a fresh-water shower on the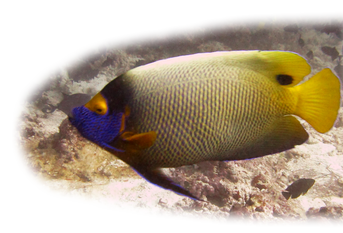 foredeck, WC below deck, sun-deck on top, two rinse tanks, towels, tea/coffee, slices of coconut, plus all the usual safety-gear, including oxygen, first-aid kit etc. The boat crew do everything for you – you don't even need to strip your tank after the dive – they'll do it for you and pack all your kit away in your crate, to be taken ashore, rinsed, and hung up to dry. After the dive they make a cup of tea or coffee for you, and bring round a plate of slices of coconut. If you decide to go on a dive advertised on the notice-board outside the dive centre, just add your name to the list underneath. That's all you need to do – your crate will magically appear on the dive dhoni the following morning, with your wetsuit neatly laid out on the bench above it.
There were some new faces at IDive this year: apart from old friends Govinda (the centre manager) and Chokka (in charge of the compressor and land-side activities), there were instructors Nik, Michele (Micke) and Jerry – thanks to all of them for some great dives.
This year IDive have bought three Diver Propulsion Vehicles (DPVs), (aka underwater scooters), and they looked such fun that I had to have a go.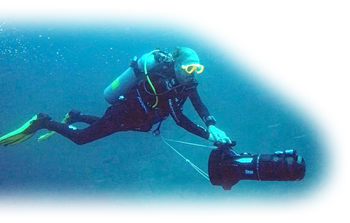 There's the inevitable PADI certification course, consisting of half an hour's classroom training, followed by an hour in the island's lagoon learning to steer them (complete chaos for the first ten minutes, then it seemed to become second nature), and finally a proper open water dive with the gizmo, which took place at Maafaru Corner, the sometimes-brilliant manta cleaning station dive site. There's also a good chance of seeing dozens of grey reef sharks nearby (check out IDive's recent video), and the DPV made it effortless to travel the 200 metres or so out to see the sharks, and back to the cleaning station. Sadly, the fish didn't co-operate on that occasion. Visibility was poor (outgoing current meant a lot of suspended matter), and we only (only!) saw 15-20 sharks, and no mantas. However on my second visit (without the DPV), the mantas were out in force as we watched at least seven of them wheeling around over the station.
The DPV is good fun, and ideally suited to this dive site, especially at the height of the manta season in January to March. It's US$ 50 to hire for a dive, so, like everything at IDive, it's pricey. The IDive team have made a promotional video to get people interested.
Dive sites visited this holiday were:
Panettone Kandu: sharks, eagle rays, lobsters, turtle
Maafaru Corner (three times): In the right season, a sometimes brilliant manta cleaning station, on the second occasion seven mantas circling us for the entire dive, plus lots of sharks, eagle rays and millions of reef fish
Thudufushi Thila: sharks, rays, turtle
Ali Thila: Beautiful hard and soft corals, sharks, tunas, octopuses, barracudas
Rehi Thila: nurse shark, lobsters
Kuda Miaru Thila: Lots of Scorpionfish, 2 x Stonefish, sharks, eagle ray
Bulaloi Thila: Lots of caves, overhangs and swim-throughs, lots of shrimps, lobsters, morays
Panettone Manta Point: no mantas, but lots of sharks and rays, Napoleon, octopus.
...plus millions of reef fish at all dive sites.
My eleven dives this year (including the DPV training and hire) cost me US$1276, which translated (at a terrible mid-Trump-trade-war and Brexit-crisis dollar/pound rate) to £1018. Ouch.
Photos
Each page contains about ten to fifteen pictures, totalling approx five to eight MB per page.
Conclusion
Another good holiday at our favourite destination. We were pretty lucky with the weather, given that the season was still in the process of changing over from low season SW monsoon to high season NE monsoon. The new restaurant scheme is, on the whole, a good idea. The diving, especially at Maafaru Corner, was brilliant - and trying out the DPV was fun. Would we come again? We are already looking at January 2020.