Maldives 2015 - Thudufushi, Ari Atoll
This site looks much better with JavaScript turned on. For the best experience, please enable JavaScript and refresh the page.
Review of our two-week stay at Diamonds Thudufushi, Ari Atoll, Maldives, in December 2015.
Thudufushi
This was our sixth visit to Diamonds Thudufushi, and our 18th to the Maldives.
BA no longer travel direct during the low season, so we'd chosen to go in December, just after the start of the high season. The BA check-in area at Gatwick North was practically deserted, and the Boeing 777 was nowhere near full. We managed to bag an empty row of three seats each, and were able to get some shut-eye on the ten-hour overnight flight.
The usual chaos at Male airport, during which we were charged excess baggage for the seaplane transfer by Trans Maldivian Airways (TMA) – you seem to be allowed just 25kg to include both suitcase AND carry-on baggage (they weigh both). Tip: for the seaplane check-in, try and stuff your pockets with any heavy items from your bags such as bottles of water, because they don't weigh you yourself. Then we were driven around the perimeter road to the TMA seaplane terminal, and fortunately only had an hour's wait for our flight over the glorious coral reefs and crystal-clear blue sea to Thudufushi island. Have your camera ready for this, as you don't have access to your carry-on bag during the flight. We stopped off at sister island Athuruga on the way, where all the other passengers disembarked, meaning the two of us had an exclusive private flight for the 5-minute hop to Thudufushi!
Once again, we could see that there have been some changes to the rooms and to the beach. More of the semi-detached beach bungalows have been converted into Junior suites with an indoor seating area and a dining table and chairs on the covered veranda. The sand on the beach moves around from season to season and over the years. While rooms 1-37 mostly had plenty of beach outside (apart from a couple around room 14 or so), rooms 38 to 45 had hardly any beach in front – see the photos.
Because we were there right at the beginning of the high season, the weather was a bit mixed. The first few days were overcast, windy and showery. However, after five days, the weather changed for the better, with glorious calm, sunny days for the rest of our stay.
Our room
We'd asked for Beach Bungalow 17 (where we'd stayed last year), but it wasn't available, so we had room 24 instead. This was actually better, as there was less sand outside 17, and more outside 24 than last year, and 24 had plenty of shade on the beach too. You take off your shoes and socks the moment you get into your room, and then you don't need to wear anything on your feet for the next two weeks.
They'd given the interiors of most rooms a lick of white paint, which makes them look brighter and more cheerful, but unfortunately the paint layer is thin and easily rubbed off – and then you can see the old brown woodstain underneath showing through. The rooms are looking a bit dated, even with the white paint makeover, but they are kept spotless by the room boy. Room 24 had a bigger safe than 17, with plenty of room for laptops etc, and there's a new sophisticated coffee machine instead of a kettle, with cartridges for espresso and the like. We'd asked for a Wi-Fi access point in our room (they only have a limited number, so if you want one, you have to ask). The Wi-Fi is adequate for most purposes, including Skype voice calls.
Otherwise the rooms haven't changed. There's a huge double bed with bedside tables, a dresser with plenty of worktop space, wardrobes with hanging and drawer space, an iPod dock, table lamps, ceiling fan and aircon. There are a couple of spare UK and European style electricity sockets for charging stuff. The bathroom has a WC and a bidet, two washbasins, towel rails, and an outside shower (once again, the shower water runs away from the drain in the corner onto the patch of sand in the middle of the bathroom!). There's a washing line outside in the bathroom, but it looked a bit grubby, so we rigged up our own undercover.
Slide open the heavy picture window door and outside on the spacious covered veranda there are a couple of easy chairs and a coffee table, and a bowl of water for washing sand off feet. You step down off the deck onto the sand, past your sunbed (new ones this year) and down the beach to the Indian Ocean and the coral reef. Bliss.
Food + drink
The main bar and restaurant haven't changed since last year. There's plenty of choice in the buffet restaurant at lunch and dinner, including the outside bbq grill on the beach, where you can see them preparing massive tuna and sailfish for the grill. There are different themed nights (eg Maldivian, Italian, International, Seafood etc), but there's always pasta, pizza and ice-cream stations. There's always a curry station with a dhal and a vegetable curry and also a meat or fish curry, together with two kinds of rice and plenty of poppadums. There's an Oriental section with three tureens containing noodles or rice, a vegetable dish, and a meat or fish dish, usually stir-fried. There are tureens containing all manner of main dishes, a salad bar containing a variety of fresh salad vegetables, a starters bar with tempting bowls of stuff, including tuna and red snapper carpaccio. There's a cheese bar with Italian cheeses, and a sweet and fruits table and ice-cream bar. You certainly won't lack for choice.
At breakfast, the ice-cream and sweets section is replaced by fruit juice and smoothies, and there's a fry station where they'll prepare you omelettes, fried eggs, pancakes, etc. There's also bread, ham and cheese, tropical fruit, and in the tureens there's scrambled egg, bacon, grilled tomatoes and the like.
In addition to the excellent variety, the quality of the food is generally high, though we learned to steer clear of the beef (sometimes tough), and were once or twice disappointed by the freshly grilled tuna – while usually meltingly smooth and tender, once or twice we had tough, gristly bits.
There is an extensive (and expensive) wine list, but we stuck with the very acceptable Sauvignon blanc from the AI list.
You keep the same table and waiter during your stay, and he quickly becomes accustomed to your drinks requirements. Our table this year was right at the front next to the beach, and we were delighted one morning at breakfast to see a pod of 20 or 30 dolphins swimming past the drop-off just a couple of hundred metres away.
It was good to see our friends behind the bar - Roshan, Kholil, Udaya, Akash and the rest were always very attentive. The bottles behind the bar all have familiar labels, and there's only genuine champagne and single-malt whiskies which aren't on the AI list. There's good Wi-Fi at the main bar and in Reception. We always use a VPN, because you never know who's listening.
The Beach Bar is open during the day, and we've never really understood why they had two bars just a few metres apart. Apparently the same thought has occurred to the management, as the beach bar is soon to be converted into a Japanese Teppanyaki restaurant. The WC area behind Reception was being converted into a new beach bar while we were there, with much jack-hammering and heavy hammer blows. This will be the fourth beach bar at Thudufushi that we can remember since we first came here in 1996, but IDive co-founder Roberto, who's been diving in the Maldives since just after Caesar landed in Britain, told me he can remember six in all.
Underwater
Snorkelling
The water-sports centre will loan you snorkelling kit, and advise how to snorkel safely on the fantastic house reef. They run free guided snorkelling trips on the house reef every morning and afternoon, although you can always head out by yourself, if you're careful (the currents can be quite strong past the island – always check that you can get back to the beach).
There are also windsurfers, Hobie cats, canoes and a sailing dinghy which you can borrow, and you can pay for water-skiing as well.
They also run (at extra cost) snorkelling trips to nearby reefs – while we were there they went to Maavaru lagoon not far away and saw 15 manta rays and two leopard sharks!
Twice a week there's an expensive whale shark trip by speedboat to the southern end of Ari Atoll, where these huge vegetarian fish are to be found – you can slip into the water and snorkel beside them. Of course a whale shark sighting isn't guaranteed, though they do seem to find one or more nearly every trip, and there may be several other boatloads of snorkelers in the water with you if you do find one.
Diving
The service from the IDive dive centre (they're on Facebook, too) just keeps getting better. This time the two boat boys wouldn't let me strip my BCD and tank after the dive – they insisted on doing it for me. And they've provided a fresh rinse tank on the boat for cameras, computers etc after the dive. The boat boys are extremely experienced, often telling the boat captain where and how to steer.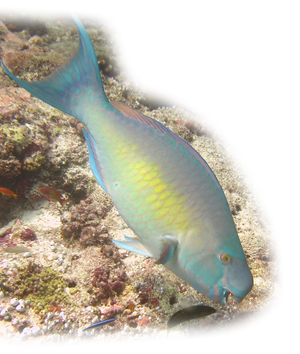 As usual, the following day's dives are written up on the noticeboard outside the dive centre, and if you're interested, you simply add your name to the boat list. That's it. Just turn up at 0915 for the morning dive and all your kit will be on board in your crate. Nitrox is free for qualified divers. The boys will help you on and off with your kit, and put it all back in your crate after the dive – they'll take it ashore, rinse it and hang it up to dry ready for the next trip. The boat has a cool-box with a variety of soft drinks, there are towels, fresh-water showers, a WC, and all the usual safety gear. After the dive, the boat boys make you a cup of tea or coffee, and bring round a tray with slices of coconut. Fantastic service.
The dive leaders are usually either Italian or German, and all speak excellent English. There's a comprehensive briefing in different languages if necessary before each dive to present the dive plan and tell you what to watch out for. Underwater they seem to have sensational eyesight, pointing out stuff you've missed. There are usually at least two leaders, and they divide up the group between them based on experience. They'll often swap divers between them in mid-dive, to keep the heavy breathers and the light breathers separate. This year there were inexplicably very few people diving – usually just four or five out of the nearly 150 guests on the island. On one trip I was on the boat by myself, with dive leader Roberto, two boat boys and the boat captain!
The equipment for rental is all good-quality ScubaPro stuff, and while I was there, they had a representative from ScubaPro staying there to show the dive staff how to service their latest kit (I was told he comes for a week or so every two years to re-certify the dive centre).
Highlights this holiday were (check out the "Photos" section below for pictures and video):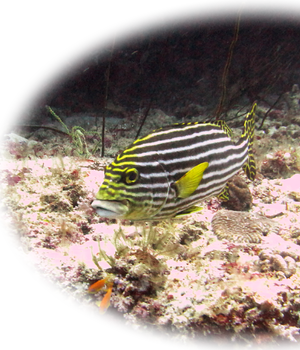 A huge group of several dozen grey reef sharks at recently-discovered dive site Maavaru Corner
A mad scramble of activity right at the start of two separate dives I did at Thudufushi Thila – I didn't know which way to look, as we saw a group of 10 eagle rays, a stingray, turtles, huge tuna, grey and white-tip reef sharks, and a wall of hundreds of barracuda, all in the first few minutes of the dive
A pod of about 50 spinner dolphins all around the boat as we motored past nearby Innafushi island
A school of 20 or 30 Pilot whales basking calmly on the surface around the boat near Panettone as we returned from a dive
An incredibly-well camouflaged scorpionfish, almost impossible to see at Kalu Giri
A beautiful, tiny Lionfish at Kuda Miaru Thila.
My 11 dives this year cost US$1077, which converted into £709, or £64 per dive. Expensive, but reflecting the first-class service and the sensational underwater sights. Thanks to Luca, Roberto, Govinda and Federico.
Bootnotes
The 2015 El Niño is being described as potentially as strong as the 1998 one, which led to disastrous coral-bleaching in the Maldives. The NOAA has already declared a global bleaching event, and is predicting severe bleaching in the Indian Ocean for early 2016. This is really bad news for Maldives fans. I hope that the coral I saw this year will still be healthy next year.
Luca tells me that there are no longer any sharks at Warren Thila. This is a shock, as for several years this dive site has always been an event, with almost-guaranteed close-up grey reef sharks. I've also seen mantas, stingrays and eagle rays there - here's some photos from a trip in 2013, and some video from 2012 (the Warren Thila sequence starts at just over a minute in). This is disappointing news, but the discovery of Maavaru Corner kind of makes up for this.
Photos
About twelve pictures totalling approx two to three MB per page.
Conclusion
Another wonderful holiday in what feels like a second home. We're already planning to return next year!