Southern England Flight 2016
This site looks much better with JavaScript turned on. For the best experience, please enable JavaScript and refresh the page.
Photos from a fantastic flight in perfect weather over Southern England in August 2016.
The flight
Not really a holiday, but nevertheless a fantastic day out. Berni, an old pal of mine with a Private Pilot's Licence, offered to take me on a flight over southern England in a hired Cessna 172 light aircraft. We were both interested in flying over the site of RAF Warmwell, and he decided to take in a few other landmarks en route.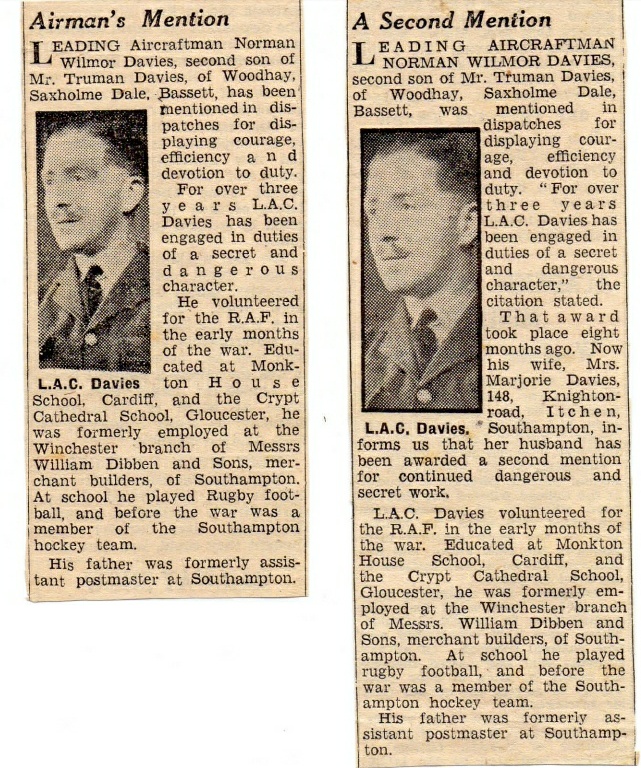 My father was a Leading Aircraftman (LAC) in the RAF in World War 2, stationed at RAF Warmwell on the Dorset coast, right opposite the D-Day Normandy landing beaches. He and a corporal manned the base's dummy airfield ("Q Site") at nearby Winfrith Heath. I was immensely proud that he was Mentioned In Dispatches twice (see press cuttings, right), for carrying out duties "of a secret and dangerous character" in 1944 on the dummy airfield, the sole purpose of which was to attract Luftwaffe bombs down on themselves instead of the real airfield. Some of the stories he told me gave me goosebumps as I realised how lucky I was to be alive.
After the war, the site was closed, and then, crazily, handed over to the UK Atomic Energy Authority, who built Winfrith Nuclear Power Station on the dummy airfield site. The construction process was continually interrupted by the discovery of some of the unexploded high-explosive bombs (described as 'Ux.H.E.' in the letter below) that had rained down on my father! The nuclear power station buildings are no longer used and are being decommissioned and demolished.
We were incredibly lucky with the weather on the flight - the morning was absolutely still, cloudless, with perfect visibility - we could see for miles. Most of the time we were flying between 1000 to 3000 feet up, so we had a fantastic view of some of the areas I know well. I did a lot of sailing in and around the Solent, Poole Bay and over to France in the '80s, and it was great to see so many familiar landmarks from above instead of at sea level.
Keep scrolling down for RAF documentation of what my dad experienced (I hope I don't get into trouble for revealing a "Secret" document):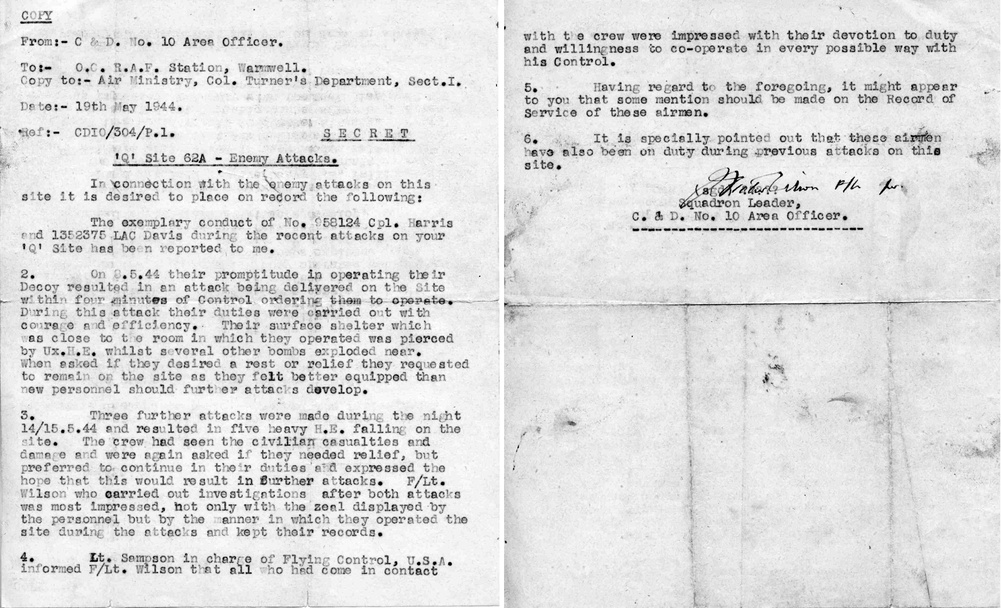 Photos
Each page contains about fifteen pictures totalling approx seven MB per page.
Conclusion
A brilliant day out, with perfect weather, and a marvellous route chosen by Berni. It was great to see my old stamping ground round the Isle of Wight and Poole Bay from the air. It was interesting to fly over where my dad served in WW2, although both the real and dummy airfields have disappeared. A tasty burger at the very pleasant Compton Abbas airfield (where we also went for a short walk over the hillsides), and the opportunity to take in sights such as Stonehenge, Silbury Hill, and the famous Cerne Abbas Giant. Thanks to Berni for a marvellous experience.