Koh Samui and Koh Maiton, Thailand, 1999
This site looks much better with JavaScript turned on. For the best experience, please enable JavaScript and refresh the page.
We flew to Bangkok, then changed to an internal flight for Koh Samui and spent a week at the Imperial Boat House Beach Resort, then flew to Phuket, and transferred by speedboat for a week on Koh Maiton.
Imperial Boathouse Hotel
We had a beautiful "converted rice barge" suite, with upstairs and downstairs, all polished wood, and well furnished. We went full board, but we would recommend just going room only or room and breakfast, because there were loads of good cheap restaurants just along the beach. We had a well-stocked mini-bar, but would recommend that you steer clear of the dreaded Mekong whisky - very cheap, but tastes and smells like petrol. Also there are several shops on the road outside the hotel, where drinks and other stuff can be bought much cheaper than from the hotel.
The swimming pool was down by the beach, surrounded by sunbeds.
Koh Maiton
Late News: Koh Maiton is still on the tourist map, but recent reports on Tripadvisor (in 2018) seem to indicate that, even though it is charging stratospheric prices, it has gone way downhill since we and the Princess stayed there..... Take care before booking it!
The Resort occupies the entire island of Koh Maiton, which is about 2km long by half a km wide. Our beach villa (#102) was enormous - a huge lounge, plus a bedroom, kitchen, bathroom and balcony. When we arrived, half the Thai Navy seemed to be anchored off the beach. We discovered that this was because the Princess of Thailand was staying at the resort (see photos). We discovered that the beach was patrolled by Thai soldiers, especially at night - her suite was a bit further up the beach from us. We were warned about the sandflies on the beach, and indeed came back with a few bites. The resort seemed very popular with Japanese clientele. Again we went full board, as there is nowhere else to eat. However, the food was not expensive, although the drinks were quite pricey - we took our own supplies.
Underwater
I was thinking of buying a dive computer while in Thailand as they'd undoubtedly be cheap - wrong!! Maybe they are in Bangkok, but on Koh Samui they were more expensive than in the UK. Plus, the dive centres didn't have computers for hire, so I ended up paying about £25 more for my Uwatec Aladin Sport than I would have if I'd bought it in the UK. Rats.
To add insult to injury, I then found that the diving was also more expensive (about £60 for a two dive trip) and not as good as the Maldives.
I went on a day excursion to Sail Rock (two dives), north of Koh Phangan and about 2½ hours north of Koh Samui. The diving was so-so - some small morays, some reef fish, some soft coral, vis only about 10m. This is stated to be the second best dive site near Koh Samui! Thanks to buddy James Dean, a boat captain from Hawaii, and dive leader "Bee". Koh Tao is supposed to be the best - we went snorkelling there - 90 mins by very fast speedboat - bumpy and wet. The snorkelling was certainly good - don't know what the diving was like. Watch out when feeding fish at Koh Tao - the little ones bite. Linda came back with teeth marks in her thigh - and they weren't mine.
I did four dives from Koh Maiton. Shark Point (twice), Anemone Reef and Koh Dok Mai. The latter was a waste of time - vis down to 3m to 4m, and little to see, apart from clams. Shark Point and Anemone Reef are said to be the best dive sites round Phuket, and were excellent - almost as good as your average site in the Maldives, with several Leopard sharks (Stegostoma fasciatum, which some people call Zebra sharks (why? they've spots, not stripes!)), soft coral and reef fish. Thanks to buddy Neil, a publican from Chew Valley.
A Leopard shark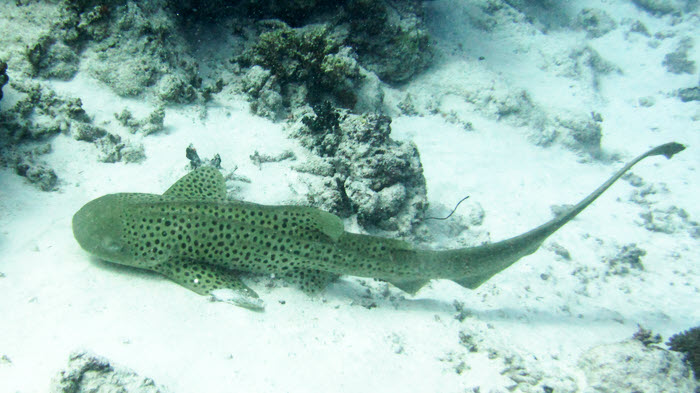 Photos
About ten pictures totalling approx two to three MB per page.
Conclusion
The Imperial Boat House Hotel was quirky, with the "rice barge" suites beautifully finished. However, the meals were not only bland, but expensive compared to the restaurants on the beach nearby. Go for B&B or Room Only at the hotel, and eat out. Diving was poor round Koh Samui.
Koh Maiton was amazing, and clearly a very exclusive resort. The food was fantastic, the pool relaxing, the staff helpful, and the diving not bad.
Back to Holidays List