Maldives 2000 - Ari Beach / White Sands / Diva / LUX*
This site looks much better with JavaScript turned on. For the best experience, please enable JavaScript and refresh the page.
Report about our fortnight's holiday at Ari Beach, Maldives (aka White Sands, DIVA and LUX*) in 2000.
Getting There
After much thought we decided to go back to the Maldives again, and booked to go to the new Coco Palm resort in relatively unexploited Baa Atoll. Since our previous experience of Monarch was so appalling (uncomfortable seats, crap cabin service, annoying two-hour stopover in Bahrein), we decided to go with Air Maldives, who flew direct. With three weeks to go before our holiday, disaster struck. Air Maldives went bust (at least, they ceased flying internationally). Distant Dreams couldn't find an acceptable alternative flight, so the holiday fell through. We therefore booked Ari Beach, a couple of weeks later, through Kuoni. Unfortunately, the carrier was ... Monarch.
At least the seats were more comfortable this year (on a new Airbus). However - same old stopover in Bahrein, same old crap cabin service. On the way out it was: "Would you like white wine with your beef?". "No, I'd like red wine." "Sorry, we don't have red wine." On the way back it was: "Would you like the chicken or the beef?" "I'd like the chicken." "Sorry, we've only got beef left."
Anyway, we got there. The usual efficient and courteous transfer (see photos) by Maldivian Air Taxi Twin Otter. This time they backed the seaplane up to the beach, rather than to the pontoon, meaning that the co-pilot asked us all to remove our shoes and socks in order to wade ashore. We'd already changed into shorts at Hulule, so were ready for this.
Ari Beach
Late News: Since writing this review Ari Beach was renamed "White Sands Resort", and then to "DIVA", and finally to "LUX* Maldives" and is now really expensive - out of our league. The serial renaming may be an attempt to leave behind any connection with the Boxing Day 2004 tsunami, when two guests were killed and the island was severely damaged and had to be closed for a year for repairs and renovation. Our comments about the rooms, the service, the food, the island layout etc will now unfortunately be irrelevant.
Ari Beach, at the southern end of Ari Atoll, is quite a big island - 1.5km long by several hundred metres wide at its widest part. We walked right round it on the beach on day 2. Staff and services occupy the southern half. Pretty interior - the main track runs the length of the island, and you walk on sand under palm trees and other tropical trees and bushes. The main restaurant, reception and main bar and sunset bar are in the middle of the island. There is a new "water village", built on stilts and decking at the northern end, with another bar and restaurant.
Our room (see photos) was towards the northern end of the island, so there was quite a long walk from our room to the bars and restaurants. The room was quite big, with aircon, a big double bed, a fridge, and an open air bathroom with bags of hot water for the shower. Some areas of the floor were not tiled, but had sand in them - like an interior flower bed, but with sand instead of earth and flowers - strange, and a waste of floor space. A gimmick that didn't work. Nice room, otherwise. It was semi-detached, but we couldn't hear anything from next door. There were patio doors at the beach end, opening onto a covered sandy area, and the beach. The patio doors were just a few feet from the Indian ocean. There was a coconut palm right outside, giving a nice pool of shade on the beautiful soft, white, powdery, coral sand.
Beach
The beach was nearly always completely deserted, apart from us. We've no idea where everybody else went. Admittedly we were there towards the end of the high season, so occupancy was down, but more often than not we had the entire beach, stretching a couple of hundred metres in both directions, to ourselves, apart from the hermit and shore crabs. We were on the windward side of the island, so maybe people went to the sheltered side. Personally, we liked a breeze to temper the tropical sun. It was quite windy when we arrived (maybe F3), but during the second week the wind gradually died down to a gentle breeze. We had a few spectacular thunderstorms and tropical showers, none of which lasted very long.
The bar was quite happy to provide us with a carrier bag full of bottled beer or soft drinks. We went all-inclusive, so always kept the fridge stocked up. The bottled beer was Corona from Mexico - pretty tasteless, but acceptable straight out of the fridge on a hot day.
Water Village
The rooms in the water village (see photos) were in a long line on stilts over the sea, with a sundeck and steps down into the sea. It sounds idyllic, but on close inspection we decided we were glad we weren't in one. The water is only a foot or two deep - so you couldn't swim away from your steps - you'd be lucky if it came above your knees. The sundeck lost the sun shortly after noon, so most people had a long walk to shore to find the beach. There were dozens of them - all in a straight line, quite close to each other, and with hardly any windows - must have been quite dark inside - and no open air shower room. The bar area was great - a huge expanse of decking, usually with only a few people scattered about the tables and chairs. The Barman was from Kerala - a bit of a character. Great club sandwiches and burgers available here during the day. We quite often ate lunch here or at the Sunset Bar, since frankly the lunches in the main restaurant weren't up to much.
Underwater
The house reef was a long way off - too far to swim, so there was a snorkelling dhoni went twice a day (extra cost). This was a shame, and meant that Linda didn't go snorkelling at all, since it meant going too far out of her depth, too far from shore.
John went diving with the efficient and friendly Eurodivers dive centre. We'd booked a package of ten dives, but were given another two free since we'd been with Eurodivers before (see Maldives 97).
Ari Beach is noted for Whale Sharks (the biggest fish in the sea), so John was keen to dive on the atoll's outer drop-offs, where these huge fish cruise up and down, feeding on the dense plankton welling up from the depths there.
On John's first dive on the atoll outer reef, a good-sized Whale Shark, 8 - 10m long, swam past just a metre or two away, then turned through 180°, and swam past him again, even closer. Had to move to one side to get out of its way. Could have reached out and touched it.........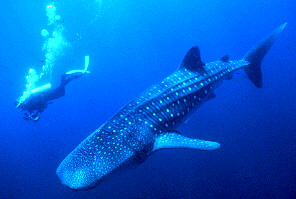 Some nice dives from Ari Beach - Parrot's Highway, Maakandu Faru (where the Whale Shark was), Napoleon Reef, Huddu Tila, Kaashi Faru, Oriental Rocks, Nenghe Tila, Blue Drop, Kahambu Faru, Rainbow Tila, Arches, Broken Rock. Apart from the Whale shark, saw white-tip reef sharks, spotted eagle rays, turtles, marbled electric ray, stingray, big Napoleons, morays, octopus, tuna, scorpionfish, lionfish, even a big marlin repeatedly jumping out of the water after we got back on the dive boat. Thick plankton on the outer reef. Thanks to several dive leaders, particularly Neil.
Also had an interesting chat with Sendi, local Maldivian buddy, who showed me how the white, dead-looking coral is starting to grow back.
Highlights (apart from you know what), particularly Arches - no current, and a wonderful reef, full of reef fish and coral, with some swim-through arches. Oriental Rocks was a picturesque site as well. At Blue Drop we had really strong current and rough seas, making getting back onto the boat entertaining. Also entertaining was the dive boat running aground just outside the dhoni harbour - we all had to jump off into the shallow water and push to get the boat off the sandbank on which it was firmly stuck. Even more entertaining was watching Germans Eric and Monika (buddies on different dives) becoming very close buddies together during the holiday.......
The dive centre suffered again from the problem that you didn't know which dive site you were going to until five minutes before the boat left. But if you wanted to hire a camera, you had to give 24 hours notice.
Bumped into Paul Miller and Lauren Flynn, a remarkable American couple of freeloaders who were blagging their way around the world, taking a year over it, talking resorts and dive centres into giving them free accommodation and dives, in return for promises of good publicity in articles and a book that they said they were writing. Hell, maybe they were genuine journalists, I don't know, but it seemed like a great way to get a cheap year-long tropical diving holiday. John dived with them a couple of times - and they ended up in the semi next to ours.
Photos
Photos of our holiday at Ari Beach. About 200kB per page.