Grenada 2017 - Sandals La Source
This site looks much better with JavaScript turned on. For the best experience, please enable JavaScript and refresh the page.
Review of our two-week stay at Sandals La Source resort in Grenada, in May/June 2017.
Travel
An uneventful 9 a.m. Virgin flight in cattle class from Gatwick to Grenada, via St Lucia (where we spent an hour or so on the ground while some people got off, and others got on). A good view of the Pitons from the port side window seat as we came in to land.
Then there was a short hour-long hop to Point Salines airport on Grenada, and after a long queue to get through Passport Control, a five-minute taxi ride to Sandals to check in.
The same process in reverse on the way home, but an overnight flight leaving Grenada at 5pm. A small group of Sandals staff sing a lovely "Come back soon" song for you before you board the minibus for the airport.
The airline food in cattle class was the same as always - just about edible.
Our Room
We'd booked a "Pink Gin Beachfront Room", in the Pink Gin building on the beach, and had asked for a room somewhere near where we'd stayed in room 1109 two years ago, and were pleased to be given room 1211, one floor up, and three rooms over. The room was exactly like 1109, except that of course it didn't have the "Walkout" feature, with its own door onto the patio and the beach, since it was on the first floor. However, it was right next to one of the staircases giving great access straight onto the beach. We'd also foregone the "Club-level" option, meaning that we didn't have beer, wine or spirits in the room – the fridge merely had soft drinks.
The bedroom is very comfortably furnished, with a massive bed, bedside tables, a couple of chairs and a table, a massive dresser containing a huge LCD TV, the mini-bar fridge, the tea/coffee making facility, and some small shelf and drawer space. There's also a small walk-in clothes cupboard containing hanging space, shelf space, a good big safe, and such useful items as an umbrella and an ironing board. There are lots of UK-style 13amp sockets for recharging stuff, which is good. There's air-con and a ceiling fan.
In the bathroom there's a single basin with some shelf space under, a good big shower (room for two), a towel rail and a separate WC. There are plenty of fluffy towels provided. There's a window between the shower and the bedroom, so you can watch your other half showering, however, there is now a slide-across screen to optionally block off your viewing and preserve modesty. But with plenty of room for two in the shower, why would anybody be in the bedroom?
Outside, there's no patio, just a small balcony, with a table and two chairs, plus a clothes-horse for drying clothes – since it was a corner balcony, we were able to string a washing line across the corner to improve drying capacity.
A day or so after we arrived, we asked if it would be possible to upgrade to the Club-level room, but a communication breakdown meant that we never got a response. Halfway through our holiday we mentioned the lack of response to the very likeable Hotel Manager, Supratik Guha, and he arranged for us to view one the following day to see if we'd like to upgrade, seemingly for free. While the room upgrade we viewed was superb (we've got our eye on the room for a possible future holiday), as we only had a few days left, we couldn't face the upheaval of packing, moving, and unpacking. However, Sandals generously offered to put a bottle of wine and some beers in our fridge every day for the rest of the holiday. Thanks, Supratik.
We also mentioned to Supratik that Sandals had several times asked us if we had anything to celebrate while we were there – and every time we told them it was our 28th wedding anniversary. We also mentioned it to our waiter, Milano, one night at Butch's for dinner. He took the trouble of ringing up Butch's on the day of our anniversary, even though it was on his day off (we'd booked there for dinner again), and asked the duty manager to wish us a happy anniversary on his behalf - they also left an anniversary card and some sparkly decorations on the table. This was nice. Supratik made a note of this, and the following day a bottle of bubbly in an ice bucket appeared in our room. It's the same bubbly that you get in the AI deal (French sparkling wine), but nevertheless it made us feel a bit special.
The staff at Sandals are like this - they go out of their way to be warm and helpful. We spotted Leanna, our butler from three years ago - she recognised us and came over to have a hug and a chat, even though we weren't Butler guests this year. She always waved when she spotted us as she passed by, and she saw us waiting on our last day for the minibus to the airport, and came over to wish us a safe journey. A nice touch.
The Watersports manager, Boota, always made a point of coming over to shake my hand and have a chat when we bumped into each other - they really try to make you feel special.
There were plenty of sunbeds on the beach and around the pool, and some with sunshades. There were always empty sunbeds on the beach, but seldom free ones by the pool. We didn't get sandblasted on the beach this year, despite there being a continual cooling breeze from the easterly tradewinds.
Food + Drink
We felt that the food wasn't quite as superb as it was two years ago. For example, I chose the Wagyu steak at Butch's one night (it's supposed to be the world's tenderest steak), and it was as tough as shoe leather – I couldn't eat it. And a chicken dish at Cucina Romana was dry. However, the quality is still mainly good – we particularly liked the Filet Mignon at Butch's and the Chateaubriand at Le Jardinier. These two dishes, plus the Mahi Mahi at Neptune's, were the culinary highlights of our stay. I even tried a hot dog from the hot dog stand, and some cakes from the Café de Paris.
We breakfasted at Spices most days, with a huge choice of buffet dishes, plus the made-to-order omelette station. We enjoyed the fruit plate - including strawberries, grapes, kiwi fruit, melon, blueberries etc, followed by a freshly-prepared fried egg or omelette, toast, and the overcooked, hard-as-nails streaky bacon that Americans seem to like. We occasionally had breakfast at Le Jardinier, and enjoyed the eggs benedict.
Underwater
The great thing about Sandals is that the diving is included as part of the all-inclusive deal, so naturally I made the most of it, doing 18 dives – nine two-tank morning dives. With 250 rooms on site, ie a maximum of 500 guests, it seemed peculiar that there were never more than a dozen divers on the dive boat (on one trip there were just five of us) – we felt that all the non-divers were subsidising our diving.
The dive sites are nearly all located in Grande Anse Bay, on the sheltered, Caribbean side of the island, with boat rides of just five or ten minutes. Occasionally, if the weather allows it, dives are done on the rougher, Atlantic side, with slightly longer journey times. The dive centre also run paid-for trips ($50 per dive) to the Marine Protected Area north of St George's, and occasionally out to King Mitch, a distant wreck on the Atlantic side, with boat rides longer still.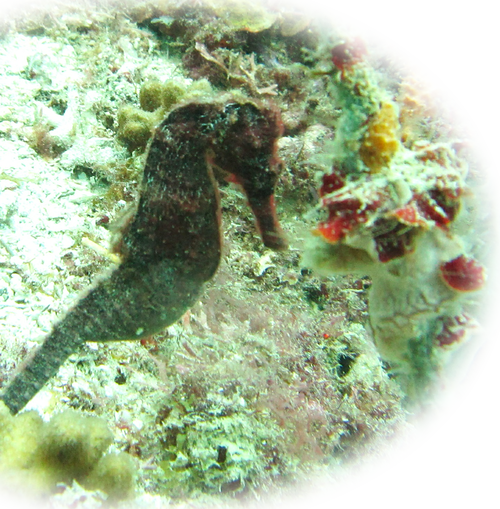 The dive leaders all know the sites like the back of their hands. On one dive, they made a beeline for some dense soft coral "undergrowth", and started rooting around. We watched them, wondering why, until they beckoned us over and pointed out a Longsnout Seahorse - an uncommon find, well camouflaged, and really difficult to spot. They never stray far, and the dive leaders knew exactly which area of reef to search. See the "Photos" section below for a good-sized photo of this highlight.
The equipment is all good quality ScubaPro. You are asked to turn up at the dive centre at 0845 to grab a BCD and regulator, and find your wetsuit - there's occasionally a scramble to grab the last regulator if there's a full boat plus pool training going on. The boat turns up some time after 0900, and then the staff start loading tanks, water, post-dive snacks etc. Sometimes you don't leave the mooring until well after 0930.
The regular Newton dive boat was unfortunately off for repairs (a new engine), so a smaller substitute was arranged, slightly more cramped, but equally fast, and with a great crew. The boat backs up to the beach (there's no jetty), and you have to wade out nearly chest deep, carrying all your kit (except tanks), to reach the stern ladder. At the end of the trip, you have to carry all your kit back from the ladder and dump BCDs and regs in the rinse tanks. There's a (coldish) shower for you to rinse off in, and I usually wore my wetsuit into the shower to rinse it off as well. If you drape your wetsuit in the sun over the rail at the front of the dive centre, the staff will take it indoors and hang it up in the storage area for you once it's dry.
Most dives are between 10 and 20 metres depth on the mainly flat reefs, and the leaders limit dive times to 40 minutes max – or sooner if somebody gets low on air (which they define as reaching 70 bar).
This can lead to ridiculously short dives. There was one clueless, overweight clown who was a disaster waiting to happen – he was wrongly weighted, he didn't seem to be able to control his buoyancy at all, and failed to report when he reached 100 or 70 bar. Goodness knows how he managed to get PADI certification. The dive leader spent a lot of time trying to help him, and discovered after 15 minutes that the clown was down to 30 bar, so we all had to surface. This was irritating, as we had two dive leaders with us, so the clown could have been taken up to the surface by one of them while the rest of us carried on diving. At least the team refused to allow him to do the second dive that trip, and took him back to shore while we were underwater.
Since the dive team are continually having to deal with new arrivals with a range of experience, they tend to be very conservative in their approach to site selection, mainly visiting relatively easy sites.
They do however observe us carefully, and build up a picture of their guests based on how we behave underwater. On my final diving day, there happened to be just five of us (coincidentally all Brits), all of whom had turned up practically every day, and the team clearly decided we could be trusted with a more challenging dive.
DM Gary took us to an unnamed site that he visits only 2 or 3 times a year when he has sufficiently experienced divers, off the point that separates Caribbean from Atlantic, where we were likely to have some fun. With a strong current, but lots of big rocks to shelter behind, a fast current-assisted swim-through, a wreck, and lots to see, including a stingray, a barracuda and a turtle, we all had a blast.
There was even some theatre - Gary speared a Lionfish, cut off its poisonous spines with a pair of scissors (intending to take it home for the pot), but we then found a Spotted Moray comfortably sitting in a hidey-hole, so he allowed the moray to tear chunks out of the dead Lionfish.
The team frequently speared Lionfish this year – they are not native to the Caribbean, have no natural predators there, and are officially declared to be a pest. They tend to eat all the other fish on the reef and grow to huge sizes. I've seen them speared in the Bahamas as well. Gary assured us that he doesn't enjoy killing them, but he's trying to get the morays to develop a taste for the voracious Lionfish, to become a potential Lionfish predator and keep their numbers in check, in order to protect the other reef life.
Grande Anse Bay is a pleasure to dive on – mainly easy, flat reefs with little or no current, and with beautiful, colourful and healthy sponges and corals. There isn't much fish life to see, so it's a highlight if you're lucky enough to come across a turtle or a shark (or a Longsnout Seahorse!). But there are plenty of spotted morays, lobsters and shrimps to be found hiding in crevices at all the sites.
The sites I visited were:
Valleys: twice. About a dozen Lionfish removed from the reef.
Coral Garden: As the name suggests, a pretty site. More Lionfish taken.
Veronica L: twice. A wreck in about 15 metres, well covered with coral, also part of a nearby reef. Scorpionfish, crabs, Sharptail eel.
Kohani: twice. Stingray, Slipper lobster.
Northern Exposure: twice. Nice reef. Sharptail eel, and a real highlight: a black and red Longsnout Seahorse!
Groom Starter: Healthy reef – Chain Moray, huge lobsters
Windmill Shallows: big Hawksbill turtle, juvenile Jackknife fish.
Shark Reef: Atlantic side. Big school of French Grunts. Five or six nurse sharks asleep in crevices under overhangs. The dive leader reached into a hole, grabbed a shark by the tail and dragged it out for us to see. Unimpressed, it immediately swam back into the hole!
Black Forest: Pretty black sea-fans.
Whibbles: Lobster, Arrow crabs, Poor visibility for some reason, drift dive.
Purple Rain: Nice reef. Another drift dive in poor visibility.
Boss Reef: Glimpse of a reef shark, Lobsters, lots of Lionfish taken.
Purple Sand: Next to Purple Rain. Another turtle, school of small tuna, Queen triggerfish.
"Fish In Paradise"/Gary's Reef: DM Gary's unnamed reef. Great fun. Strong current, a current-assisted swim-through, a wreck, lots of lobsters, Barracuda, Southern stingray, Turtle.
See the photos for all the sea-life mentioned above, and more of the life in Grenada's Grand Anse Bay. Thanks to Gary, Kimshon and all the other members of the team.
Photos
Each page contains about ten to fifteen pictures totalling approx two to three MB per page.
Conclusion
We still think this is the best Sandals we've visited. The food, though good, wasn't quite as good as we remember it from two years ago. The staff are unfailingly polite and helpful. The diving is above average for the Caribbean.
Would we come again? We've pencilled it in for two year's time…