Total Eclipse of the Sun, 1999
This site looks much better with JavaScript turned on. For the best experience, please enable JavaScript and refresh the page.
11 August 1999
Great idea, we thought - pop over to France, avoid all the crowds in Cornwall, better chance of good weather on the Continent, etc etc. Ha!
After a three hour wait at the Tunnel on the eve of the eclipse, we eventually got to the Hotel des Beaux Arts overlooking the river in Compiègne (recommended) at about 11pm, dumped our bags and wandered off to find something to eat. Ended up at Au Bureau, a crowded but excellent bar in the centre of town, where we had a pizza and drank in the atmosphere and a few beers.
We got to bed at about 1am, and up early to travel to Noyon. Just as well - joined our first traffic jam of the day, taking about two hours to travel the 10 miles or so to get to Ribecourt, a couple of miles south of Noyon itself, and smack on the centreline of totality. Established ourselves on a great spot beside the road, just north of Ribecourt, halfway up the hill, with a great view over the plain to the east south east to see the shadow of the moon travelling away towards India. Set up the cameras on tripods - the Canon SLR with 600mm mirror lens, and the Panasonic digital video camera to record the great moment: Bailey's Beads, Diamond Ring, corona, prominences etc. Lots of other excited people there as well, eagerly expectant.
The only trouble was, the weather didn't want to play. We had thick overcast all morning, with the clouds just thinning slightly half an hour before totality to give us a brief glimpse of the moon having a nibble before thickening up again. Then it started to drizzle, so we had to cover up the cameras.
Already fairly murky, it got dark rapidly at 12:22 CET, just like somebody turning a dimmer switch down, and I could only just make out my watch face. All the street lights of Ribecourt down on the plain before us came on. Away to the south east, we could see the horizon still well lit. Two and a quarter minutes later, and the dimmer switch was turned up again - seemingly taking just a second or two to become light. Away to the south east, all was now dark. Normal daylight returned within a couple of minutes, and we all trooped off to our cars.
An hour later, the clouds parted, and the sun shone. By this time we were well esconced in the most horrendous traffic jam to get back onto the A1 to head for Calais, surrounded by cars registered in Britain, Belgium and Holland. By the time we had fought our way back to Calais through the jams, there was a cloudless blue sky. Rats! Stopped off to fill up with cheap booze before going back through the tunnel, so some good came of it.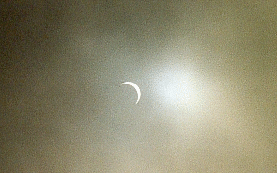 All in all, not a good excursion. Ok, we saw darkness at totality, but that was all. So we've vowed to head for Madagascar in 2001 to have another go...... {later note: we failed.}
Back to Holidays List