Cayman Islands 2001
This site looks much better with JavaScript turned on. For the best experience, please enable JavaScript and refresh the page.
Report on our holiday in the Cayman Islands, in 2001.
Getting There
A nice holiday, but very expensive. We spent one week on Cayman Brac, and one week on Grand Cayman.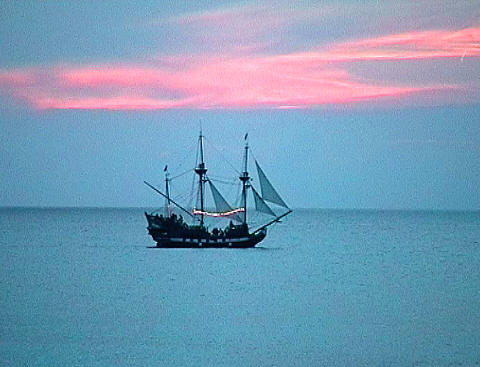 What a long journey. A good British Airways flight from London Gatwick to Grand Cayman, via Nassau, Bahamas, followed by a domestic flight via Cayman Airways from Grand Cayman to Cayman Brac. A 26 hour day awake. Chaos at Cayman Brac airport, with the entire aeroplane full of people waiting for the two minibuses to get us to our hotels.
Cayman Brac
Late News: We've only just discovered that the Divi Tiara Beach Resort was badly hit by Hurricane Ivan in 2004, partially closed in 2006, and eventually abandoned in 2008 after being further hit by Hurricane Paloma. It was finally demolished in 2019. See this report from The Cayman Compass, this Youtube video and this Youtube video. Obviously, any comments about the hotel are now irrelevant. However, comments about the diving and the island are still relevant.
Bliss when we got to our first hotel, Divi Tiara Beach Resort on Cayman Brac, to find that we'd been upgraded for no obvious reason, to the honeymoon suite - thanks, Divi! A fantastic room - a large room with dining table and chairs, bags of storage space, huge double bed, double jacuzzi bath, and an enormous balcony.

On the south-west coast of Cayman Brac, the resort has a wonderful beach for sunbathing, with lots of palm trees for shade, plenty of sunbeds, swimming pool, and a beach bar nearby. However, it's not that good for swimming from. The resort is inside the fringing reef, so there's a lagoon separating you from the sea. In addition, at the waterline, there's a lot of seaweed and fine sand that feels like mud. However, we went for a walk along the beach early on our first morning there, and immediately saw two baby turtles just a few feet from the tideline. The lagoon proved to be impressive for wildlife, with spotted eagle rays, nurse sharks and stingrays seen, in addition to numerous birds such as ringed plovers, turnstones, egrets, etc.
The place seemed pretty empty - we were at the tail-end of the season. It rained once or twice during the night. Frequently we were the only people on the beach or in the bar. The pace of life here seemed very laid-back.
Local draught beer called Stingray is pretty tasteless.
There was a brackish lagoon behind the resort called Westerly Ponds, with lots of birds, including herons. Next to Westerly Ponds was a very helpful car hire place. Behind the Ponds was the air strip - not many planes per day, but probably the noisiest was the morning commuter jet to Grand Cayman at about seven am, which took a few days to get used to!
Nice food here (we were half board). The cook was an American called Cliff who was very friendly and helpful, very skilled at breakfast - eggs any way you want, blueberry pancakes etc. Wine with dinner unbelievably expensive - something like three pounds sterling per glass. Marching about near the swimming pool were a number of turnstones, who clustered outside the dining room and swimming pool looking for scraps. Also common were lizards with curly tails. We tended to eat dinner late, after the mozzies had stopped biting.
The dive centre at Divi Tiara was really something else - superb service, at a high but reasonable price. I had some wonderful dives from here. They had five really fast dive boats to get you to the dive sites pronto. Highlights were swimming with turtles, stingrays and eagle rays, fabulous reef fish and coral. Also hiring a video camera for a day (US$65) for the three dives that day, and getting some great underwater footage. I'd booked a dive package through Kuoni before we went - it turned out to be a lot cheaper than if I'd waited until we got there before booking dives.
One two-tank dive took us to a pristine un-named dive site at the eastern end of the island (near Bert Brothers), and eventually to a complete circumnavigation of the island. That afternoon (still with the video camera), we made an excursion to nearby Little Cayman (at no extra cost - normally this costs extra - don't tell the boat captain's boss). Others in the group saw dolphins and a hammerhead shark that day. Needless to say, with a video camera in my hand, I missed these treats. Of course, the video is also NTSC Video 8, so will be challenging to import.
Due to my own incompetence and inability to interpret the timetable, I missed out on the dive trip to the wreck of a Russian frigate sunk deliberately a few years ago. Supposed to be really great - but I can't say, grrrr.
We hired a car from the nice lady next to the Westerly Ponds. Good car, empty roads. We "did" the whole island in less than a day, including seeing the famous parrots in the parrot reserve. A unique species, found nowhere else in the world. We spent a couple of hot, sweaty hours plodding around the reserve nature trail without seeing the parrots. As soon as we got back to the car park, we saw four or five of the damn things.

On to Esperanza, a good, (but incomprehensibly empty) bar on the north coast for a Red Stripe sitting on the wooden veranda built out over the sea.
After a week it was time to leave (reception seemingly completely incompetent to get the bill right), and a ludicrously early morning journey to the airport for our half-hour flight back to Grand Cayman, and the transfer to the Beach Club Colony Resort, on Grand Cayman's West Bay.
Grand Cayman
The Beach Club Colony Resort seemingly closed in 2010,and a 10-storey block of condos called Watercolours built on the site. Most of this tab is therefore unfortunately irrelevant...
What a difference. Where Cayman Brac was quiet, deserted, laid back, Grand Cayman (at least the West Bay end where we were) was loud, built up, crowded, commercialised. GC is expensive, or rather, there's more opportunity to spend money here.
We were all-inclusive here at the Beach Club Colony Resort - they say they are the only such hotel on West Bay. The hotel doesn't look impressive when you arrive at the gate, but inside it's good. Nice rooms, not as nice as the honeymoon suite on Cayman Brac, but there you go.
Meals were buffet style - breakfast was good - a slightly better selection than Divi Tiara. Eggs freshly cooked for you, but bacon well overcooked, and liable to shatter into a thousand pieces when you stab it with your fork.
The resort did various specials for lunch - including BBQs and even burger and chips from the griddle. There were blackbirds that pestered you at mealtimes - if you turned your back for a moment, they would be on your plate eating your food. A good reason to eat dinner late, after they'd gone to bed. Dubious entertainment - one night we had the Cayman Islands Geriatric Female Amateur Line Dancing Society (all three of them) to entertain us. They were so terrible it was great.
The bar was great. Good choice of bottled beers, plus any cocktail you want. One of the Cuban staff kept playing Manu Chao's "Clandestino" album. I bought it after I got home (via Amazon of course). The bar always seemed empty in the evenings - for an all-inclusive resort this is incomprehensible.
Major drawback of the hotel was the fact that they entertained cruise-ship passengers. This means that most mornings, suddenly several hundred strangers would invade the beach. At least the hotel maintained a small separate section for us genuine guests (snob, snob).
One form of entertainment here was watching the people walking up and down Seven Mile Beach at the water's edge. There was a woman with a terrier which was really accomplished at catching her frisbee, leaping several feet into the air to snap it up.
I did a few dives from here, but the people in the dive centre really seemed more interested in chatting to each other than helping the guests, showing them what to do. They were really annoying and sloppy, but since that sloppiness extended to failing to charge me for a couple of dives and kit hire, I suppose I shouldn't complain. They were more professional on the boat however - no complaints about sloppiness on the water.
My real beef was that they curtailed every dive, by announcing that we needed to be back on the boat after 20 minutes for a 30m dive, or 40 minutes for a 15m dive. This meant that I was climbing back on the boat with 60% of my air left, which was really annoying. Maybe they were trying to cater for people who were doing 3 dives per day, but then so were the people on Cayman Brac, and they didn't attempt to restrict our bottom time. Eventually I ignored them, meaning that I tended to be the first off the boat, and the last back on. The others on the boat seemed to take ages to get kitted up, and used their air quicker than I did anyway. There was a German diver, older than I, who spoke little English - we chatted a bit, and he also found this restricted dive-time odd, but being German, he always obeyed orders, and was back on the boat at the stipulated time.
The hotel was twinned with Spanish Bay Reef Hotel on North Bay, and there was a free minibus transfer every day. We spent a day there - nice hotel, friendly staff, hilarious dining room, with a ceiling covered in straw hats. You can't swim from the beach - too rocky, but there is a small harbour (and a swimming pool). I also did a couple of dives from here - the North Bay is nicer and the coral less damaged than the West Bay.
The Sandbar
THE best trip we had was a snorkelling trip to Stingray City, or rather, the nearby Sandbar. This was a real hoot - if you go to the Caymans - you gotta do it. A quick snorkel on the inside of the fringing reef (where we saw a 1m nurse shark sleeping under an overhang) is followed by dropping anchor at the Sandbar, which is inside the reef, about a mile offshore, yet only waist-deep. The Southern Stingrays are completely accustomed to people by repeated feeding, and although genuinely wild, are really friendly.
You hop off the boat and stand waist deep in the water - the stingrays immediately start circling around you. They are after the food, of course (squid in a floating pot supplied by the hire boat), but they know that you will be the ones to supply it. They rub their bodies up against you, they let you stroke their lovely smooth slippery flesh, hold them in your arms, looking at them eye to eye, and eventually you feed them by hand. They hoover up a bit of squid held in your fist with impressive suction power (they don't have teeth). If you fail to come up with the food, they push their bodies up against you, hard, to make their impatience known, but they never sting or bite. We were told that sometimes they can give you a love-bite, or hickey, which lasts for several weeks. We had about 20 of the things circling our group of about a dozen people. They ranged in size from a meter across to young ones about 30cm across. Unmissable!
Photos
A few pictures totalling about a couple of MB per page.
Conclusion
A fantastic holiday in two very different locations. We really liked Divi Tiara and Cayman Brac. Great diving.
Grand Cayman, like a lot of the Caribbean, is an American playground. On Cayman Brac, we were the only Brits. On Grand Cayman there were a few more, but you have to like Americans in order to like the Caymans.....