Le Chateau Du Faucon, Ardennes, France, 1998
This site looks much better with JavaScript turned on. For the best experience, please enable JavaScript and refresh the page.
NB: The Chateau closed for restoration in 2008, and has re-opened with a new focus on horse-riding.
At New Year we stayed for a few days in Le Chateau du Faucon in Donchery in the Ardennes. 2020 Update: The chateau's web site no longer seems to offer an English language page.)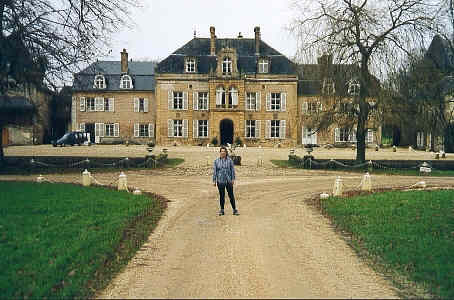 Nice place - but they made a real performance out of the New Year's Eve meal. It started at 9pm, and by 1.30 on New Year's Day, they'd only just brought out the main course. We were tired by then, and skipped the rest of the festivities, and went to bed. Doubtless the locals thought we were party poopers.
Nice memories - going for a walk after dinner the previous evening round the chateau estate, by moonlight, very mild, and we were joined by the chateau's dog!